One issue many people don't consider when it comes to diet and exercise is selecting high protein foods for their diets. Too many calories (cals) build fat and you need protein to build muscles and endurance. It's really a matter of cals versus protein when selecting foods for your diet.
You will find some foods like cake and candy contribute a lot of cals, but little or no nutritional value, and protein in these foods is scarce or nonexistent. Carrots have no protein, but they have nutritional value. Other foods like tuna and chicken breasts provide about 20 grams of protein (gp) per 100 cals - that's 20% if calculated as gp per 100 cals (GP2C).
So, why is "Calories Versus Protein" per food important?
Simply put, you need a lot of protein, and if you mostly eat foods that are low in protein, you end up eating more cals than you need to get your protein - that builds fat. Obesity is a huge issue in the US and it really comes down to a high protein food solution.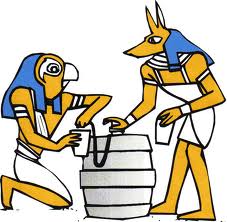 For example, if you decided to go on a beer diet, sure some beer has protein, but how much beer would you have to drink to get the protein you need? Yes, these are the types of questions that keep me up at night... (lol) I'll show you the numbers in a bit, but let me tell you right now - its a lot of beer!!

How much protein do you really need to stay healthy?
Everyone from the USDA [ref PDF] to WebMD [ref] to Harvard [ref] says to use a percentage (%) of cals. The problem is that they all use different %'s, or their numbers make no sense.
The USDA uses a % of food groups. You can see the problem with this approach in my beer food group example. Using a % of protein cals from a specific food group doesn't work because different foods vary greatly in number of protein grams per 100 calories [GP2C] - this last % is the REAL % that gets you to the "meat" of the issue - it gives you protein versus cals - simple. This is the % THEY don't want you to think about!
WebMD doesn't want to take a position and instead says "the USDA's MyPyramid plan suggests that protein make up between 17% to 21% percent of total cals." I am guessing that is WebMD's recommendation - I couldn't find this in the USDA's MyPyramid plan (linked above).
Harvard likes this idea too and says "In the U.S., adults get an average of 15 percent of their cals from protein; for a person who requires a 2,000-calorie-per-day-diet, that's about 75 grams of protein." Looks good, but they don't specify anything about how to figure protein versus calories.
I decided to go to the authority on the subject - The Institute of Medicine! They posted [ref] that "Adults should get 45 percent to 65 percent of their cals from carbohydrates (carbs), 20 percent to 35 percent from fat, and 10% to 35% from protein."
Well, we don't eat protein. We eat foods that contains protein. Poorly communicated ideas can cause serious harm! (see punctuation example on the right)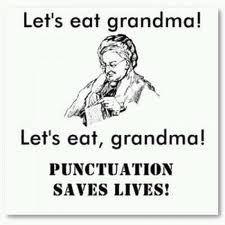 It's easy enough to weigh food and determine protein content if you know the protein per weight of the food, but why bother calculating %'s of food groups? All of the above institutions recommend carbs over proteins, but as Bonnie Minsky, LDN, MPH, MA, CNS (one among many) points out [ref], "It is a biochemical fact that no carbohydrate is essential for human nutrition." There are nutritional foods that contain carbs, but Bonnie is right - we don't NEED them. USDA, WebMD, Harvard, The Institute of Medicine, and so many other respected institutions are simply and so obviously WRONG!
Let's move on to something that makes sense and have some fun too!
A % based on GP2C makes sense and is much easier to understand. With this simple formula, we can measure the protein value in foods to get a feel for which foods have more and less protein. Just use total daily cals, a high protein food selection, and a selection of foods that have nutritional value to build your diet.
I pulled data from Calorie Count and other sources to determine the grams of protein per ounce (oz) for some of my favorite foods in the spreadsheet below. I also show the number of oz's, pounds and cals it takes with each food to get 100 grams of protein. You can use this to easily set a goal for more protein and pick foods that don't push your calorie intake up too far. I had to, of course, include beer!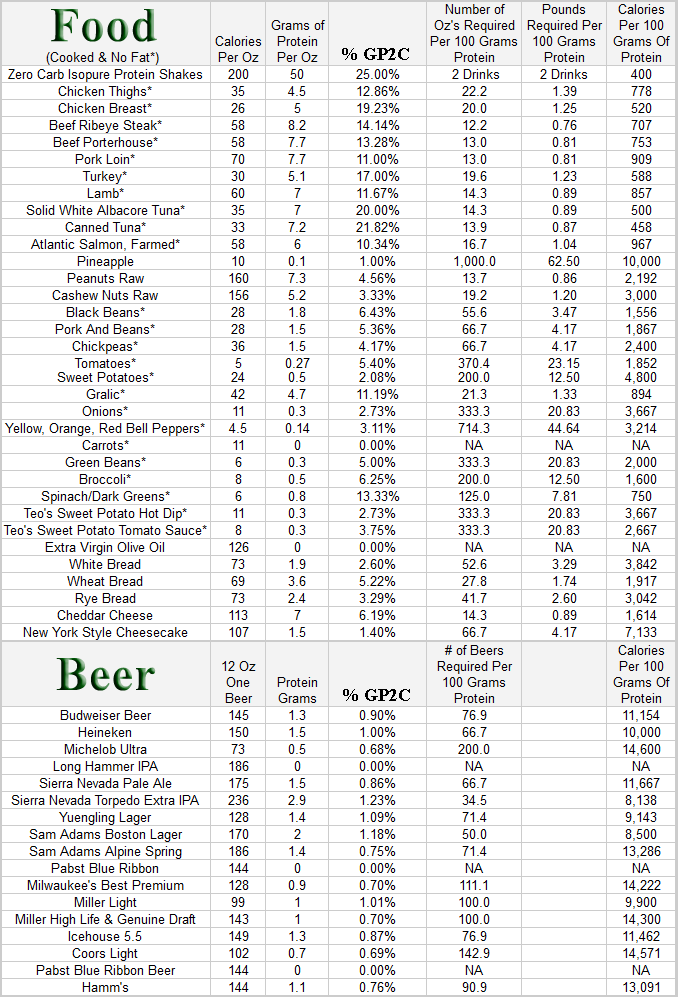 What's the best source of protein?
You can see that tuna, chicken breasts and even spinach and dark greens are great for increasing your protein intake with the least amount of cals. Protein shakes are a great choice too and bring a higher % GP2C than regular food. They can supplement your diet to increase your protein, are easy to drink, and save you money on food.
All Beer Diet? (just say no!)
You can also see that the beer diet doesn't work because the cals are so high. If you decide to give it a try, it looks like the Sierra Nevada Torpedo Extra IPA is your lowest calorie choice at 8,136 cals per 100 gp. Michelob Ultra looks like a great low calorie choice, but when it comes to GP2C, you are looking at 200 beers and 14,600 cals per day, and Papst is just useless!
Why 100 grams of protein per day?
When I was lifting heavy in my strength training program, I was eating high protein foods to get 400 grams of protein per day (my trainer's recommendation) with 2,600 cals (6.5% GP2C). This calorie chart would have really helped me back then, but I will use it as a reference as I get back into it now. For strength training or any athletic endeavor, 100 grams of protein is just a starting point. Think about this - for every 10 pounds of muscle you build, your body burns an extra 500-700 cals per day! You need a lot of protein with your exercise to build muscle - more than 100 gp/day!
Click for Details -->
Calorie Counter
<--