After focusing on the Internet Business Certification program for 4 months and providing free webcasts to build a customer base for that platform, I have moved on to building a new FaceBook application. Although webcasts are a great way to build your list and support your programs and projects, nothing can currently compete with creating a custom FaceBook application for your business. (Click Here for Details.)

Forget a FaceBook page - these don't really DO anything, except expose information passively. They don't have any proactive permissions based strategy behind them. Can you post on subscriber walls or email your fans? For standard FaceBook pages, the answer is simply NO! Easy to build and make pretty, but no brains behind this strategy!
Let's look at a great success story on a FaceBook (FB) app and some serious problems the designers are currently dealing with. Building and supporting a custom FaceBook application requires some serious planning, and even a fantastic idea can be shut down in an instant if not implemented properly.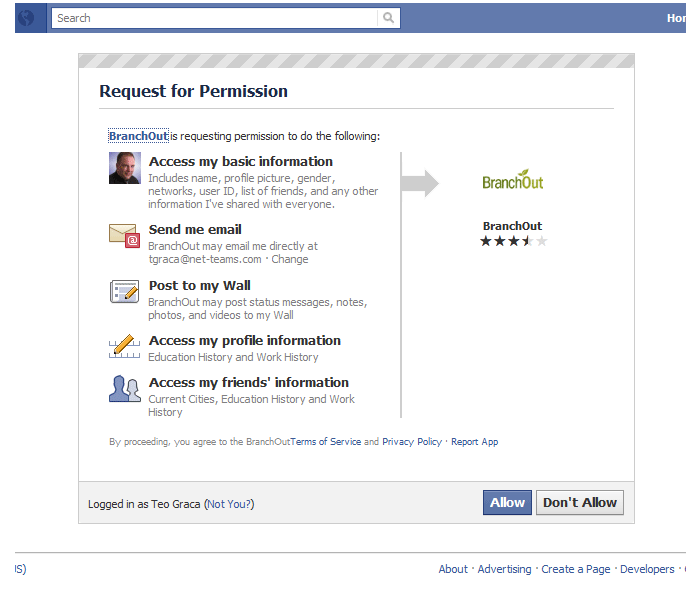 I am tracking about 30 FB apps in any given month. This week, Branch Out is of special interest as the perfect case study for success and potential failure. They quickly went to almost half a million active users since July 2010 - I took a few minutes and joined late last night (over 460,000 active users this morning). The first thing you do when opting into a FaceBook application is give it permissions to do things. I just checked the application programmers interface (API) documentation published by FaceBook this morning - there are 37 key permissions an application can request. FaceBook has posted a "best practice" to ask for as few as possible - people won't opt in if you ask for too many.
Branch Out asks for only a few, and one was email permissions, this brightly lights a red flag for me - I don't really want emails from a FaceBook application. If you know how to opt out and manage these things like this in FaceBook, then it's really not a big deal. Also, I want to see what this application does with email.  The other permissions requested are things I that seem necessary. What really surprised me is that the application has gained so many users so quickly - people don't seem to have a problem with providing emails to apps.

Problem 1: Using email opens up a can of potential SPAM worms for any app - it's easy for a few people to complain and get an application black listed, and people are easily offended by SPAMMY email, so why make this part of the application? There are so many more effective ways to communicate with people on FaceBook, and none of these are regulated by a congressional act like email is! There are some good reasons, but I can't go into them here.
Best Practice 1: When building FaceBook applications, "Just Say No" to email for promotions. If people are using FaceBook, they generally don't want emails from a bunch of FaceBook applications to muddle up their lives.
Problem 1 Example: When I signed up for Branch Out, I received 3 emails in less than 12 hours. You've heard of an act of war - this was an act of SPAM in my opinion. I read all the emails and they were promotional - not a good approach in my view.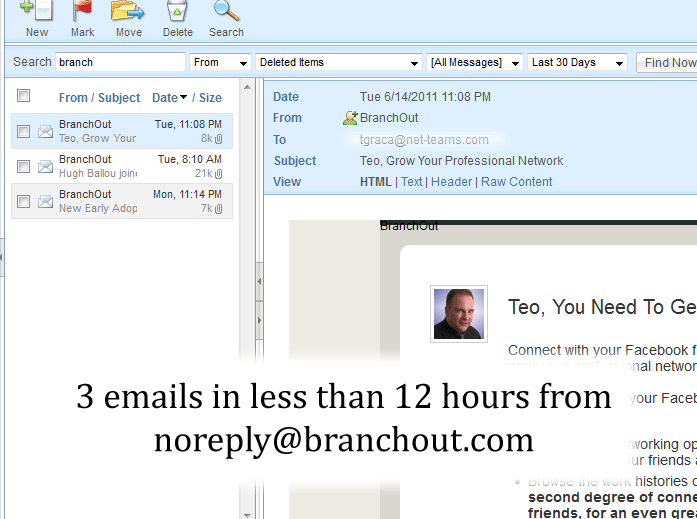 Problem 2: Branch Out also asks (almost requires) that you give them access to your LinkedIn profile too, where you could easily lose your hard built LinkedIn account - they were going to keep my LinkedIn password (sheesh, this was unacceptable to me, so I didn't do it). Also, connecting the application to LinkedIn opens a new can of worms for Branch Out - now the application is slave to two platforms and a few complaints on LinkedIn OR FaceBook could break the application, since it is "dependent" on two systems.

Best Practice - General: Keep It Simple (KIS - KISS if you like to add Stupid). Integrating an app with 2 platforms means that you have two points of failure - integrations like these are complicated at best and impossible at worst. If one kicks you out, it breaks your integration with both.
Problem Example 2: Well, I opted out because of the 3 emails I found this morning, and then went back to the site to look around - here's what I found.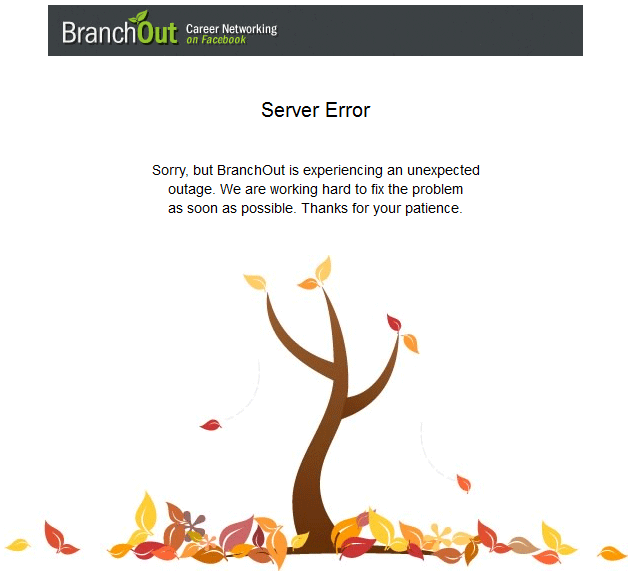 I can only guess at what happened. Too many users, bad design, IT issues, blacklisted because of SPAM on one of the two platforms, etc. It happens, no big deal, but it has been down for a couple hours now. I will check back in later and give you an update!
UPDATE: It's back up! Yeah! I wanted to check the message for accessing my LinkedIn account. Wow! The LinkedIn integration is gone! They must have read my mind! I am now guessing the outage was due to this change. They also pulled the statistical data showing how many active users are in their system and have a completely different look now - the external site now resolves as a FaceBook page - huge changes! They have probably adopted the new xFBML API, which was just released by FaceBook last month. They are limiting the statistical data to your network now, instead of theirs. This is another best practice published by FaceBook. Let's hope they ditch the SPAM! There are a lot of best practices now on this application - stuff I am using in our FaceBook application - nice!
NOTE: LinkedIn is relatively new to providing an API and as I remember the LinkedIn message, it read something like "Giving your password to this application gives it full access to your account" - this is bad design on the part of LinkedIn, not Branch Out. Best Practice for users - never give your password to a third party application.
UPDATE: The site has gone down several times since yesterday, so I am guessing the Branch Out infrastructure is not up to par. They have recently raised another $18M ($24M to date), so hopefully they will address this issue.
NOTE: I have been looking for a revenue model for this FB application, but I can't find one. Like Twitter, they may not need one for a while - as long as they have investors ready to foot the bill!
Click for Details -->
Net-Teams.net
<--