When searching for a long-term branding strategy, you may want to test several strategies to learn what works and what doesn't. When it comes to domain name selection, we teach that it is best to buy several and develop a landing page for each. Then you can watch and see which one attracts the most organic traffic. This becomes your brand. The remaining domain names can become part of a long tail strategy to create relevance through ideas not presented on your main website.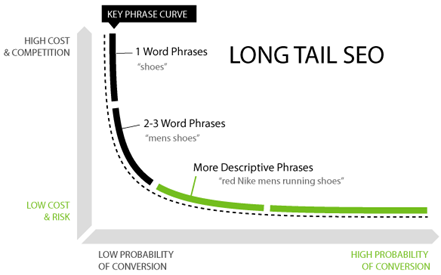 "Your" domain tester sits inside the Multiple Website Marketing tool and allows you to easily see a side-by-side comparison of traffic generated from your various domain selections. You can register several similar domain names, create keyword selections for each, use our tool to build the micro sites (one page websites) and after several months, you can simply watch and learn as you prepare your other business strategies.
The remaining domains can be used as part of your sales funnel and focus on relevant areas associated with the your brand, but not directly attached to your brand. The most popular item in the long tail is called the "head" and everything else to the right is part of the "tail". The horizontal part is the "long tail" portion.
For those starting a new business, this strategy helps them select a more effective company name for the business - selecting a business name without first testing it could stick you with a less effective brand name.
For example, if you are in the moving business and provide storage, moving supplies and truck rental, you can create several domains for each of these services. Once the primary website is completed, covering all of these services, you attach the most popular domain name to the core site and use the other sites to pitch "the importance", "problems experienced", "solutions found" or whatever focus you selected for each of these other domain names. The idea is to provide just one good idea per micro site and use it to convert visitors in some way, like capture their contact information with the promise of additional information. It's important to keep these sites different from the core website - this creates relevance for each.
Also, we have found that although while most people look forcus on marketing to the most popular searches (SEO strategies), which is the head in the graphic above, if you don't give attention to the tail, you can be leaving as much as 30-60% of your potential market on the table. Registering and testing domain names and keyword strategies on the web creates a definite ROI for those that want to take their branding strategies to the bank!

Instead of just registering and sitting on domain names like most people do, I encourage you to make the extra effort to develop real value for your domains and find out what works best with your domain name ideas. Join the VMA, have a custom VMA website attached to your domain, test and either sell new or use your domain or profit from the traffic generated.
We offer education, tools and service in the area of branding, web development, marketing and branding. We are currently looking for people seeking new careers to become part of our team, or to attract a better job. If you would like a free consultation with one of our educators, take 10 minutes and take our Entrepreneur Assessment (click here). You will learn a little something about yourself and allow your mentor to communicate better with you.
Click for Details -->
Viral Marketing Alliance Info.
<--